While sitting back in a wooden box and getting your sweat on may not be for everyone, it's become a widely popular way to treat the body and can even provide a range of powerful benefits.
Infrared sauna are no longer just for high-end spas, resorts, or found at speciality gyms.
Many people have begun buying infrared saunas to add to their homes, including them in their backyard escapes, or installing them at their cottages.
If you've used traditional saunas in the past, you may be wondering, "what makes an infrared sauna different?"
In this article, we're going to answer that exact question, as well as explore some of the benefits you can experience while using one and what to look for when buying an infrared sauna!
Let's get started.
What is an Infrared Sauna?
Often, when people think of a sauna, they picture a room filled with steam.
Infrared saunas are very different from traditional ones, and have created a way to heat the body and elevate the benefits you can experience by including it in your regular routine.
When you use a traditional sauna, the air around your body is being heated by steam, increasing your body temperature, and making you sweat.
Instead, when you step into an infrared sauna, you'll experience dry heat that's produced from powerful infrared lamps that warm your body directly through the light wavelengths.
You'll be heating your body while the entire sauna stays clear and free of any moisture, except for the sweat on your skin.
For simplicity, think of it as the difference between a hot and humid day where the air around you is thick and heavy with damp heat and a comfortably hot day where you can feel the sun directly on your skin.
While both can be at the same temperature, one feels drastically different than the other.
This is how an infrared sauna can heat your body much differently than a traditional steam sauna can.
Infrared saunas usually operate at temperatures between 120°F and 140°F, whereas traditional steam saunas are heated anywhere from 150°F and 180°F.
An infrared sauna heats the body directly with infrared technology. Infrared heat penetrates deep beneath the surface of your skin, eliminating the need for extreme humidity in the air. This often makes for a much more relaxing and comfortable experience, allowing people to stay in longer and further maximize the benefits!
What are the Benefits of an Infrared Sauna?
Due to the wavelengths of the light in an infrared sauna, you can get a more soothing and relaxing temperature rise throughout your body, leading to a wide range of benefits.
Saunas have been used to treat the body for decades and have been shown to have surprising impacts on the body.
One study found that regular use of an infrared sauna significantly reduced fatigue levels in participants who suffered from Chronic Fatigue Syndrome.
This same study also documented improvements in overall mental health, reducing anxiety levels as well.
Some of the other benefits you can expect when incorporating the use of an infrared sauna into your regular routine include:
Reduced muscle tension
Stress relief
Skin improvements
Higher energy levels
Detox of the body
Additionally, saunas help support stronger bonds between loved ones by providing a space to relax and disconnect from the world.
By the end of your session, you'll feel warm, calm, and in a nearly blissful state of relaxation to carry you throughout the rest of your day.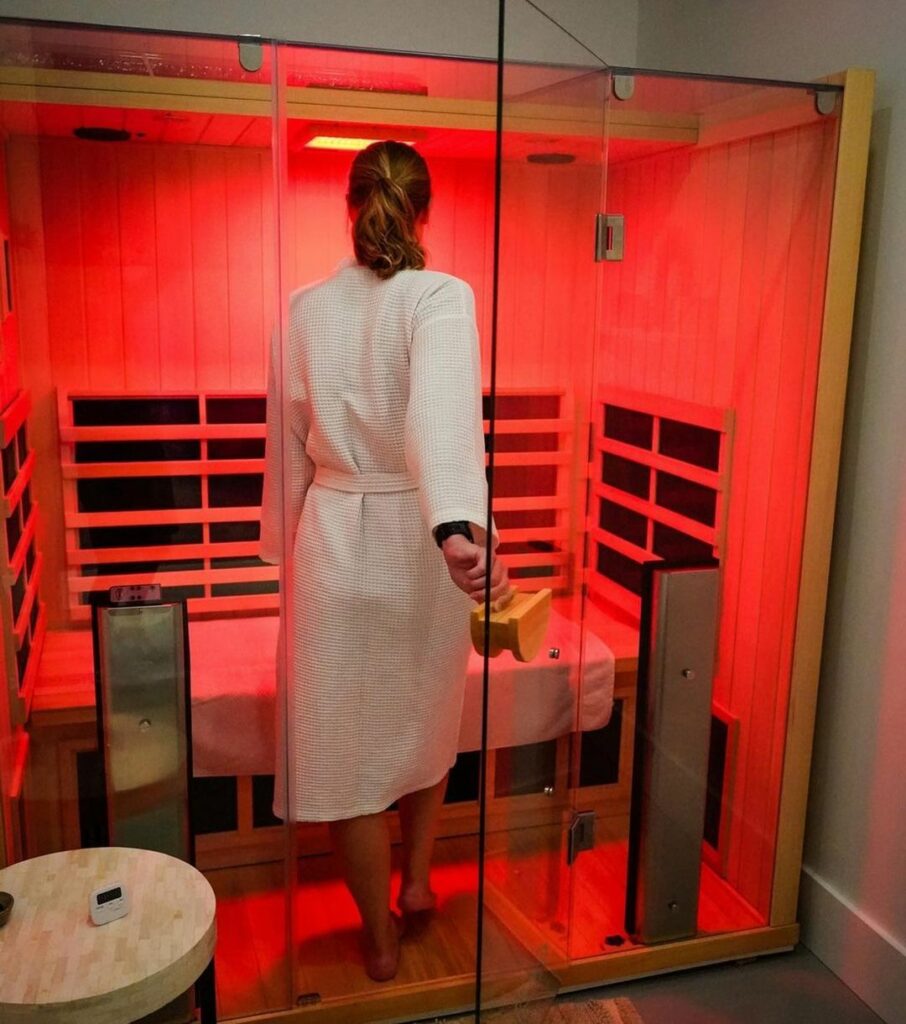 Your Guide to Buying an Infrared Sauna
If you've been considering buying an infrared sauna, you may be wondering where to start.
It's an investment, and we believe everyone should have all the information possible to help them make the best choice for themselves.
To support this, we've created a comprehensive guide to buying an infrared sauna to help make this as easy as possible!
1. Heater Placement
Depending on the sauna brand or manufacturer, heaters can be placed in various positions, with some being more effective than others.
While some saunas place the heater at the top of the room, heating your body from above your head, this reduces the impact of the heatwaves and decreased the benefits you can experience.
The best placement for your infrared lights will be around your body, with the ideal placement directly in front and behind your body, as you can clearly see in our Jacuzzi® Infrared Saunas Sanctuary Collection.
This positioning allows the heat waves to reach your body most effectively and provides the best experience and overall benefits.
2. Type of Wood
What your sauna is made of is one of the most important aspects to consider.
Saunas are made of wood, and each type of wood will give off its own distinct smell.
The most common woods used for saunas are Western Red Canadian Mahogany or North American Brasswood.
Mahogany is the traditional wood and gives a subtle but classic scent, providing a world-renowned sauna experience.
Brasswood is a better option for people who are sensitive to smells because they produce much less scent as they are used.
All our Jacuzzi® Infrared Saunas are built using high-quality, eco-certified wood, ensuring you're getting a sauna made with the best materials possible to give you an enjoyable experience that doesn't compromise the health benefits.
3. Size
The size and shape of your sauna will be based on how many people you plan on sharing your space with and where you plan on putting it.
Smaller saunas will get up to heat faster than larger units, so it's important to factor that in when choosing the model that's right for you.
Saunas can seat anywhere from one person to a group of five, with larger sizes being more expensive. A smaller unit would be worth considering if you're sticking to a budget and don't mind making it your own personal escape.
You can get saunas for both indoor and outdoor spaces, with some even designed to fit in corners, such as our Sanctuary C model.
4. Infrared Technology
Infrared saunas can offer three different wavelengths, and not all saunas provide an all-in-one experience.
Infrared saunas can provide various types of light, including near, far, and full-spectrum, each with its own benefits. Far has become the most commonly used in infrared saunas due to their ability to be absorbed best by the body and can lead to more sweating.
Let's break down each one.
Near-infrared (NIR) light has been shown to have powerful effects on the body due to its ability to deeply penetrate the skin, up to nine inches! This allows the heat to reach your nerves and the subcutaneous fat in your body.
Due to this deep exposure, NIR provides a range of benefits to support your overall health, including:
Improving skin health by tightening and firming your body's surface by promoting increased collagen production.
Higher energy levels by stimulating the cells in your body.
Better circulation by expanding your blood vessels, allowing for better oxygenation of your body and better recovery post-workout.
Decreased inflammation stemming from the improved circulation and the relaxing of muscles throughout your entire body.
Better sleep when used during the daytime by improving the release of melatonin, the natural hormone in your body responsible for sleep.
Far Infrared (FIR) is absorbed by the water in our skin, making it a powerful option to include in a sauna, as it will interact with the sweat produced during use and maximize results!
This heat gets drawn deeper into the skin as it is absorbed by your sweat, allowing it to target deep tissues in the body.
Some of the benefits you can experience through FIR include:
Healthier blood vessels, largely due to the increased blood flow supporting their repair and recovery.
Detoxing the body by increasing your body temperature causing you to sweat out toxins.
Strengthening the skin and supporting healing from the increased circulation and higher production of collagen.
When these infrared spectrums are combined, they provide a full-spectrum infrared light experience so that you can take full advantage of these benefits and maximize their effects on your body.
5. Warranty
Purchasing a sauna is an investment, and you want to ensure that investment will be protected for years to come.
Jacuzzi® Infrared Saunas include a comprehensive warranty and are one of the only ones in the industry offering such extensive warranties on their products.
When you purchase a sauna for your home, Jacuzzi® provides you with a limited lifetime warranty, allowing you to maximize the lifetime of your sauna, and feel confident in your choice.
Infrared Saunas for Sale in Los Angeles
Lifestyle Outdoor has been the leading spa dealership in Southern California for over 35 years, and we've expanded over the years to include six locations!
If you're ready to reap the benefits of an infrared sauna, our team of experts can help you discover the model that's right for you. To explore how your sauna can look once installed in your home, check out our sauna installation gallery!
Visit your local showroom, or get in touch to get started today!