Take a New Approach to Health and Wellness
What better way to prioritize your health and wellness than with the installation of a Hot Spring® Spa? In fact, spending as little as 10 minutes inside of one of these industry-leading hot tubs several times a week can greatly contribute to how you feel physically, mentally and emotionally. The environment within a Hot Spring® Spa is designed with your comfort and relaxation in mind. Whether you turn on the LED lights for soothing chromatherapy or engage the jets for a full-body hydromassage, your Hot Spring® Spa is equipped to handle the task.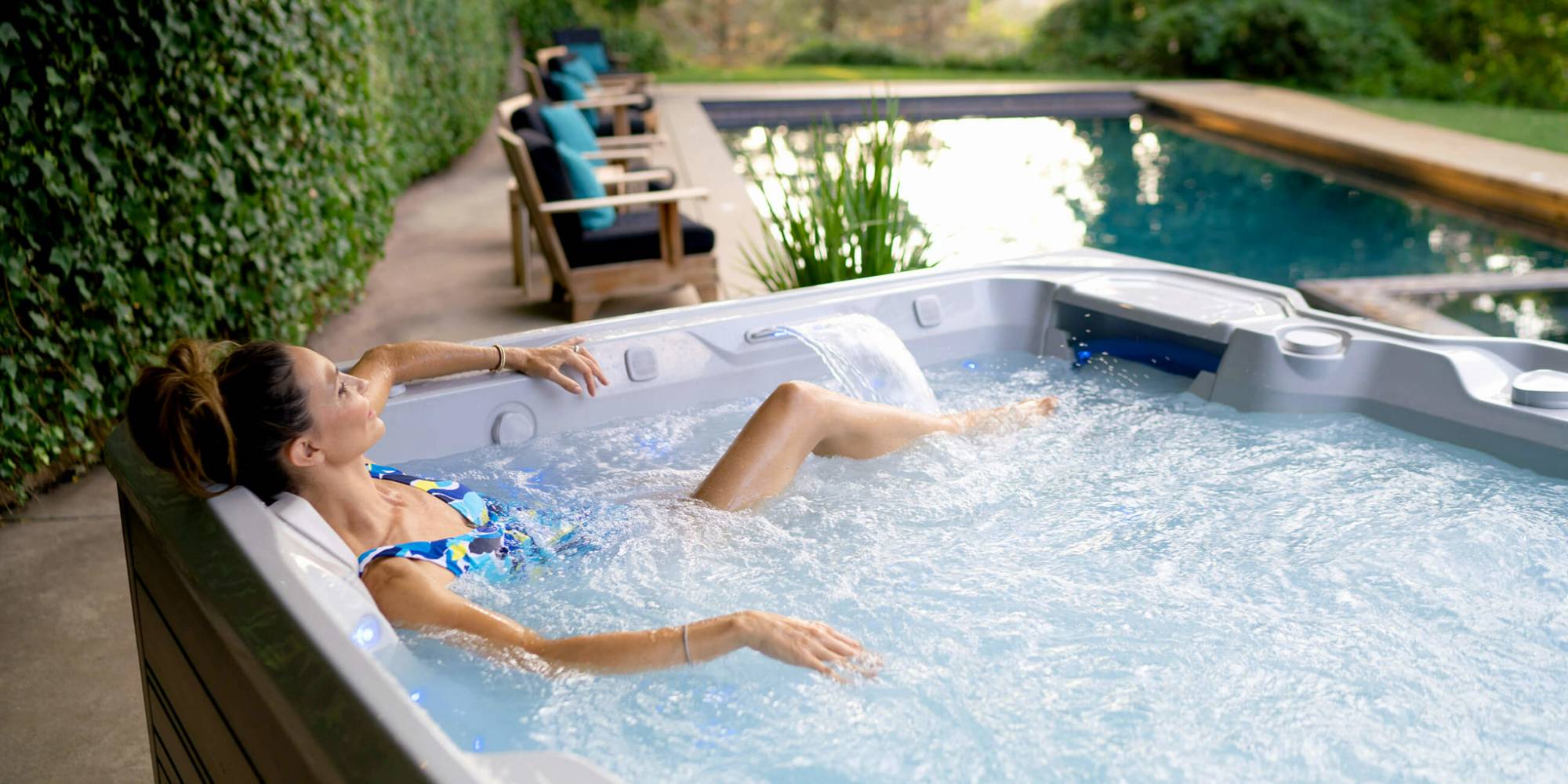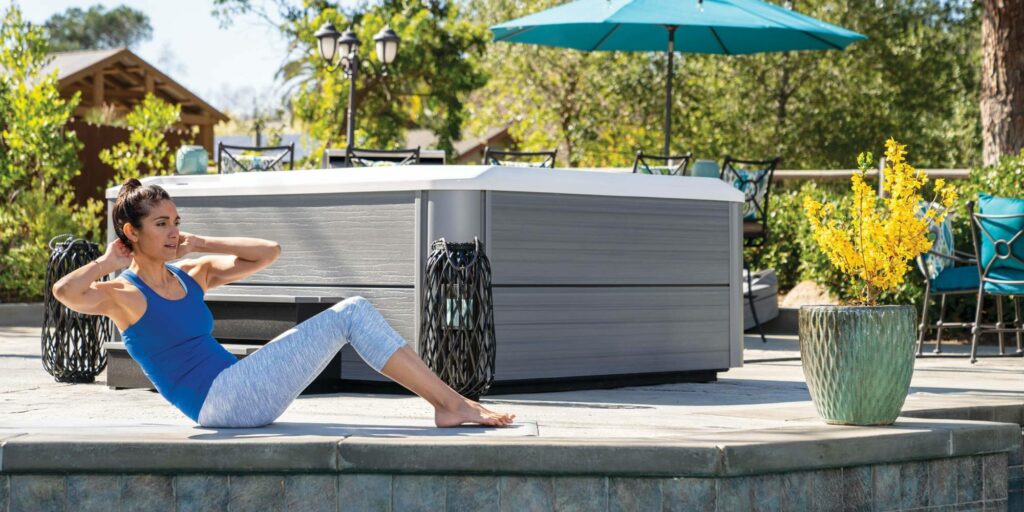 Find the best Hot Spring® Spas model for your home, health and lifestyle. We have 20 models for you to shop from!
THE RIGHT HOT TUB FOR YOUR LIFESTYLE
Quality, Performance and Value
Modern hot tubs from the Hot Spring® Spas brand always offer sleek designs, unique massage options and energy-efficient features. These luxurious spas provide a rejuvenating and relaxing experience for everyone. Hot Spring® Spas offer an affordable option to spa owners, without compromising on durability, longevity or style.
In addition to the standard water purification system that reduces the need for chlorine, Hot Spring® Spas also offer one of the best salt water systems on the market. This salt water system enhances the quality of your spa water, keeping your skin soft, hydrated and healthy. With minimal maintenance required to keep your spa water clean, you can spend more time enjoying the water than maintaining it.
Innovative Massage System
Hot Spring® Spas carries our favorite hot tub massage jet, known as the Moto-Massage DX. This patented design is a one-of-a-kind jet that uses two powerful streams of water to target your entire back in a soothing, sweeping motion. Their other massage jets are designed to target your other muscle groups, and you can customize to the pressure level that feels most therapeutic to you.
Hot Spring® Spas leads the industry in design, engineering, and manufacturing of energy-efficient hot tubs. With Hot Spring Spas' Energy Smart® system, each spa is built with a combination of energy-efficient features that simultaneously provide you with lower operating costs and the best value over time. You won't have to worry about high energy bills with this system.
Which Hot Tub is Best for Me?
Is it time to add a Hot Spring® Spa to your home or backyard? While there are many premium units to choose from, finding the best hot tub for your lifestyle is important. Many factors can come into play and should be taken into consideration as you research and shop.
Size – Will it fit perfectly into your home or backyard area?
Seats – Will it accommodate your family and friends
Features – Does it have all the features that you desire?
Price – Does the price fit comfortably into your budget?
Lucky for you, our hot tubs from the Hot Spring® Spas brand are built and designed with an exceptional and long-term owner experience in mind. To learn more about our hot tubs for sale and ultimately find the best hot tub for you, contact your nearest Lifestyle Outdoor showroom today. From Culver City and Pasadena to Sherman Oaks, Ventura, and throughout California, our experts are here to assist you.
Our commitment to customer satisfaction shines in our reviews. Just see what our customers have had to say!
We purchased our swim spa a couple of years ago and LOVE it. We use it all the time to work out, swim and relax. It is so easy to maintain and have had nothing but great experiences with Keith in the Ventura store and the owner. I would and have referred friends to Keith and Lifestyle Outdoors.
Class act products and service! Keith was very helpful in helping me to decide which hot tub would best meet my needs. He came to my house to make sure it would fit without needing to use a crane. He recommended I call Cesar Rendon to do my demo and concrete work as we had an existing hot tub that needed to be removed. The hot tub was delivered with ease into my backyard. Keith followed up with a visit to make sure everything was working properly. I would highly recommend Lifestyle Outdoor as my experience was excellent!
Stress-Free Shopping Experience
Last year I visited almost all hot tub stores in the area, and I had the most comfortable experience at Lifestyle Outdoor Ventura – no stress, no pressure. Staff were friendly and knowledgeable and answered all my questions. Keith was good at taking care of customer's needs. He always returned my calls promptly. The hot tub I purchased was delivered on time, and he attended the delivery and installation. I am happy with this purchase.
Terrific Customer Support
Amazing Service – they came to Montecito and we had a very difficult situation. The old hot tub was sunken into a cement platform and Keith, the sales manager, was terrific (he came to the property 3 times!!) and he also guided us via text and phone and he coordinated with our electrician and for two months we figured the problems out and finally we now have a beautiful hot tub here! Thanks to the install team too – they navigated the steep steps to our top terrace twice – once to remove the old spa and then again to install the new one!
We love our Jacuzzi hot tub from Lifestyle! Great place to shop for something so big, pricey and personal. Marc is very knowledgeable about their products and patient with questions. Delivery & installation went w/o any problems. We've called & gone back several times since and the support has been super! We also have friends who've had the same excellent service & experience with Marc at Lifestyle Outdoor. 👍
Exceptional Customer Care
My experience with Lifestyle Outdoor in Sherman Oaks was absolutely fantastic! Like many new homeowners during the pandemic, I was looking for a high quality hot tub that could be delivered to my home without too much hassle. After meeting with Alyssa at Lifestyle Outdoor I was immediately at ease. She asked me lots of thoughtful questions about my home and the type of hot tub I would be most interested in, she carefully selected some potential hot tubs, and then gave me a comprehensive tour of the store. She also emailed me lots of helpful recommendations and information after my initial visit. Because of her help I was able to get a hot tub ordered, delivered, and properly installed within a short amount of time. I look forward to continue working with Alyssa and the team at Lifestyle Outdoor to maintain my beautiful new jacuzzi for years to come. I'm grateful for their excellent customer service, responsiveness, and support.
The staff at Lifestyle Outdoor are very helpful and professional. The choices can be overwhelming, but Kelly patiently answered our questions and helped guide us during the decision making process. Also worth mentioning…the delivery and installation went smoothly. I highly recommend Lifestyle Outdoor to anyone in the market for a hot tub.
The team at Lifestyle Outdoor has been fantastic to work with. We knew little about the process at the beginning of our journey to get an Endless Pool and Jeff and Kelly both made the experience easy to understand and they both were very helpful and hands-on when it came time for installation. As a result, we have a beautiful Endless Pool installed in our house and we are thrilled to have it and use it every day. I highly recommend the team at Lifestyle Outdoor – they'll take good care of you.
Get in touch with our team of home and backyard leisure experts by completing the form below with your basic information and a brief message about your inquiry.