With over 60 years of experience and innovation, it's no wonder why Jacuzzi® Hot Tubs are highly known and regarded throughout the spa industry. With 20+ premier spa models to shop from, finding the best hot tub for your lifestyle is a simple process – especially with help from the experts at Lifestyle Outdoor.
Equipped with features such as the SmartTub™ System, PowerPro® Jets and stunning ProFinish® Cabinetry, you'll wonder how you ever went without a Jacuzzi® Hot Tub.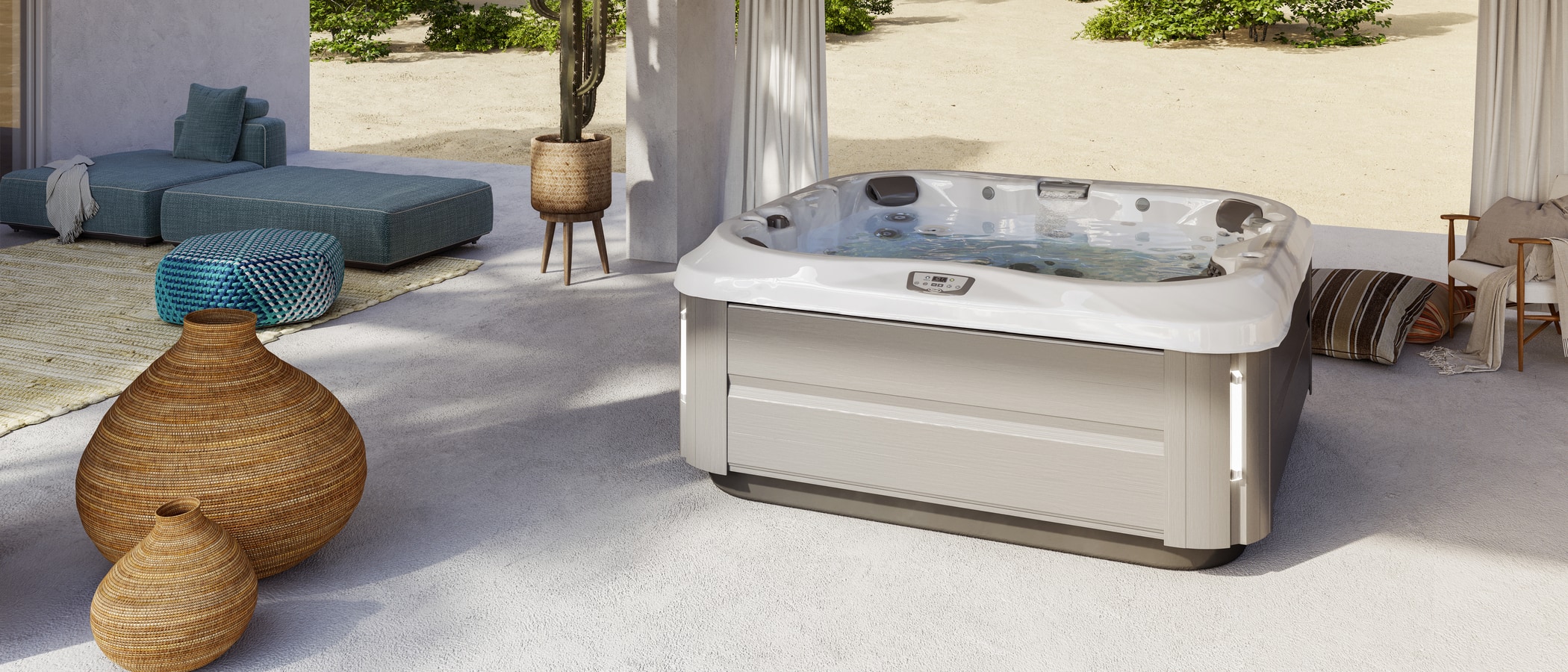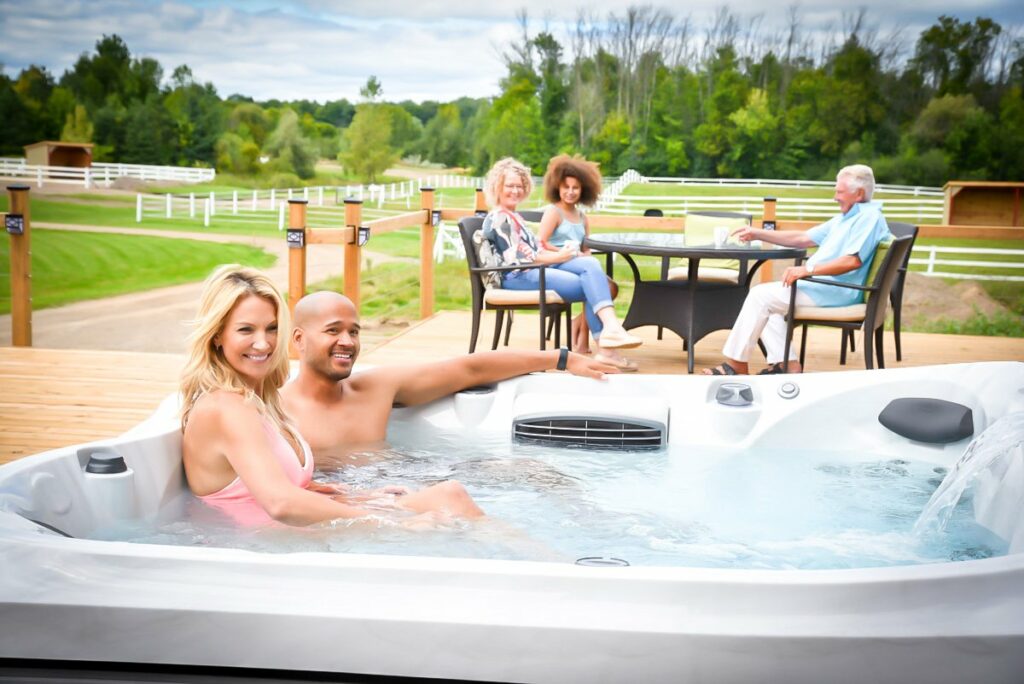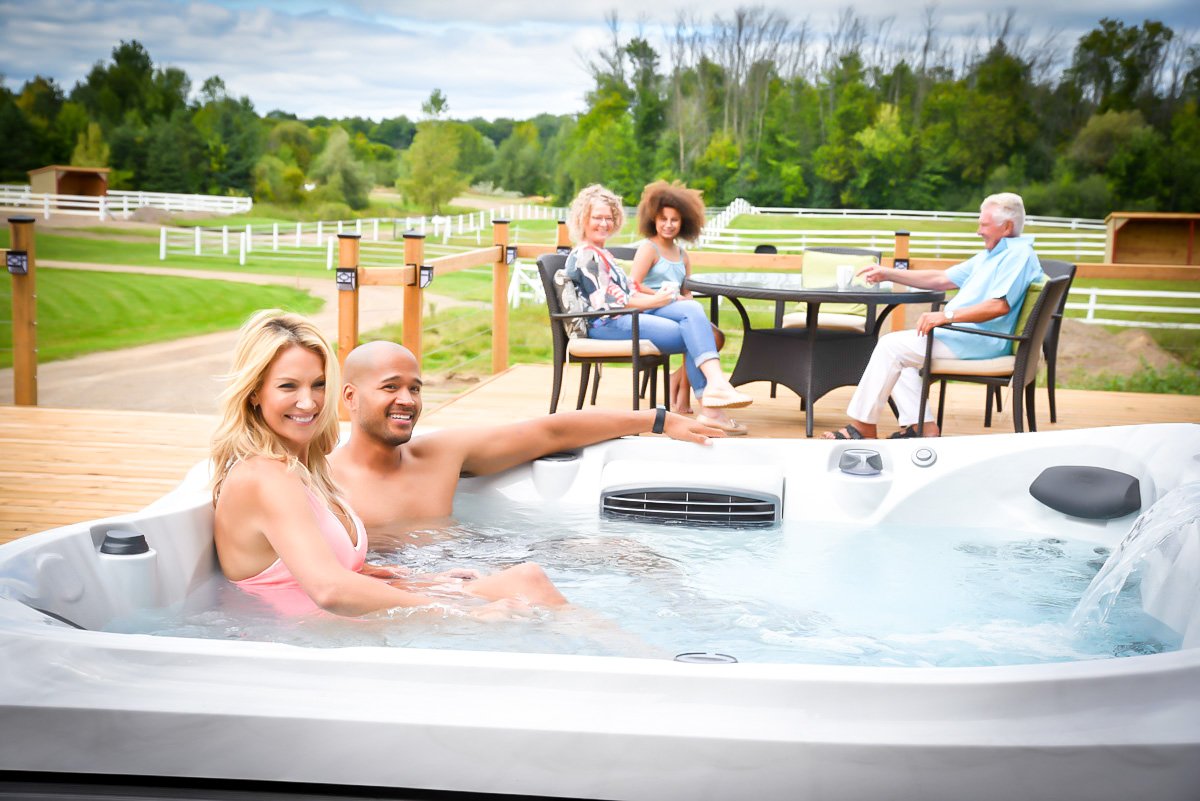 THE RIGHT HOT TUB FOR YOUR LIFESTYLE
Where Style Meets Innovation
When it comes to the hot tub lifestyle, there really is no comparison. You can enjoy a simpler approach to health and wellness, all while making a lasting investment in your home and boosting quality time with your loved ones. When complemented by the innovation and excellence that is synonymous with Jacuzzi® Hot Tubs, you'll never want to leave the water!
Made With Excellence In Mind
Jacuzzi® Hot Tubs are designed and engineered with your health, wellness and enjoyment in mind. Only the best materials are used to craft these industry-leading spas to ensure a product that is nothing less than superior.
Unforgettable Hydrotherapy Experience
The right jets can create the perfect spa experience. Surround your body with jets that create the perfect mixture of water and air to leave your body feeling revitalized.
A Modern Approach To Spa Ownership
Intuitive and user-friendly, these control panels allow you to manage every aspect of your hot tub. The control panel is resistant to water and illuminates at night. This upgrade is an option on most Jacuzzi® Hot Tubs.
Personalized Spa Experience
With over 25 different cabinet and shell combinations, you can customize the entire look to your preference. You can even match the spa to your deck or patio for an appearance that seamlessly complements your existing backyard aesthetic.
Everything you need to know about Jacuzzi® Hot Tubs, from the features and technology, to how one can change your life for the better.
Our commitment to customer satisfaction shines in our reviews. Just see what our customers have had to say!
We purchased our swim spa a couple of years ago and LOVE it. We use it all the time to work out, swim and relax. It is so easy to maintain and have had nothing but great experiences with Keith in the Ventura store and the owner. I would and have referred friends to Keith and Lifestyle Outdoors.
Class act products and service! Keith was very helpful in helping me to decide which hot tub would best meet my needs. He came to my house to make sure it would fit without needing to use a crane. He recommended I call Cesar Rendon to do my demo and concrete work as we had an existing hot tub that needed to be removed. The hot tub was delivered with ease into my backyard. Keith followed up with a visit to make sure everything was working properly. I would highly recommend Lifestyle Outdoor as my experience was excellent!
Stress-Free Shopping Experience
Last year I visited almost all hot tub stores in the area, and I had the most comfortable experience at Lifestyle Outdoor Ventura – no stress, no pressure. Staff were friendly and knowledgeable and answered all my questions. Keith was good at taking care of customer's needs. He always returned my calls promptly. The hot tub I purchased was delivered on time, and he attended the delivery and installation. I am happy with this purchase.
Terrific Customer Support
Amazing Service – they came to Montecito and we had a very difficult situation. The old hot tub was sunken into a cement platform and Keith, the sales manager, was terrific (he came to the property 3 times!!) and he also guided us via text and phone and he coordinated with our electrician and for two months we figured the problems out and finally we now have a beautiful hot tub here! Thanks to the install team too – they navigated the steep steps to our top terrace twice – once to remove the old spa and then again to install the new one!
We love our Jacuzzi hot tub from Lifestyle! Great place to shop for something so big, pricey and personal. Marc is very knowledgeable about their products and patient with questions. Delivery & installation went w/o any problems. We've called & gone back several times since and the support has been super! We also have friends who've had the same excellent service & experience with Marc at Lifestyle Outdoor. 👍
Exceptional Customer Care
My experience with Lifestyle Outdoor in Sherman Oaks was absolutely fantastic! Like many new homeowners during the pandemic, I was looking for a high quality hot tub that could be delivered to my home without too much hassle. After meeting with Alyssa at Lifestyle Outdoor I was immediately at ease. She asked me lots of thoughtful questions about my home and the type of hot tub I would be most interested in, she carefully selected some potential hot tubs, and then gave me a comprehensive tour of the store. She also emailed me lots of helpful recommendations and information after my initial visit. Because of her help I was able to get a hot tub ordered, delivered, and properly installed within a short amount of time. I look forward to continue working with Alyssa and the team at Lifestyle Outdoor to maintain my beautiful new jacuzzi for years to come. I'm grateful for their excellent customer service, responsiveness, and support.
The staff at Lifestyle Outdoor are very helpful and professional. The choices can be overwhelming, but Kelly patiently answered our questions and helped guide us during the decision making process. Also worth mentioning…the delivery and installation went smoothly. I highly recommend Lifestyle Outdoor to anyone in the market for a hot tub.
The team at Lifestyle Outdoor has been fantastic to work with. We knew little about the process at the beginning of our journey to get an Endless Pool and Jeff and Kelly both made the experience easy to understand and they both were very helpful and hands-on when it came time for installation. As a result, we have a beautiful Endless Pool installed in our house and we are thrilled to have it and use it every day. I highly recommend the team at Lifestyle Outdoor – they'll take good care of you.
Get in touch with our team of home and backyard leisure experts by completing the form below with your basic information and a brief message about your inquiry.