If you've begun planning your 2023 goals and are searching for a way to improve your lifestyle in the new year, look no further than a swim spa!
There are many swim spa benefits you can experience by investing in one of these compact, powerful all-season pools. They can be a great way to help you meet your health and fitness goals while elevating your lifestyle in surprising ways.
Swim spas have become a popular investment for many, providing a unique way to enjoy the benefits of a hot tub without sacrificing the possibility of having a pool in your backyard.
If you've been wondering if a swim spa is right for you, this article is for you. Below you'll find some of the most impressive and surprising lifestyle benefits swim spas provide.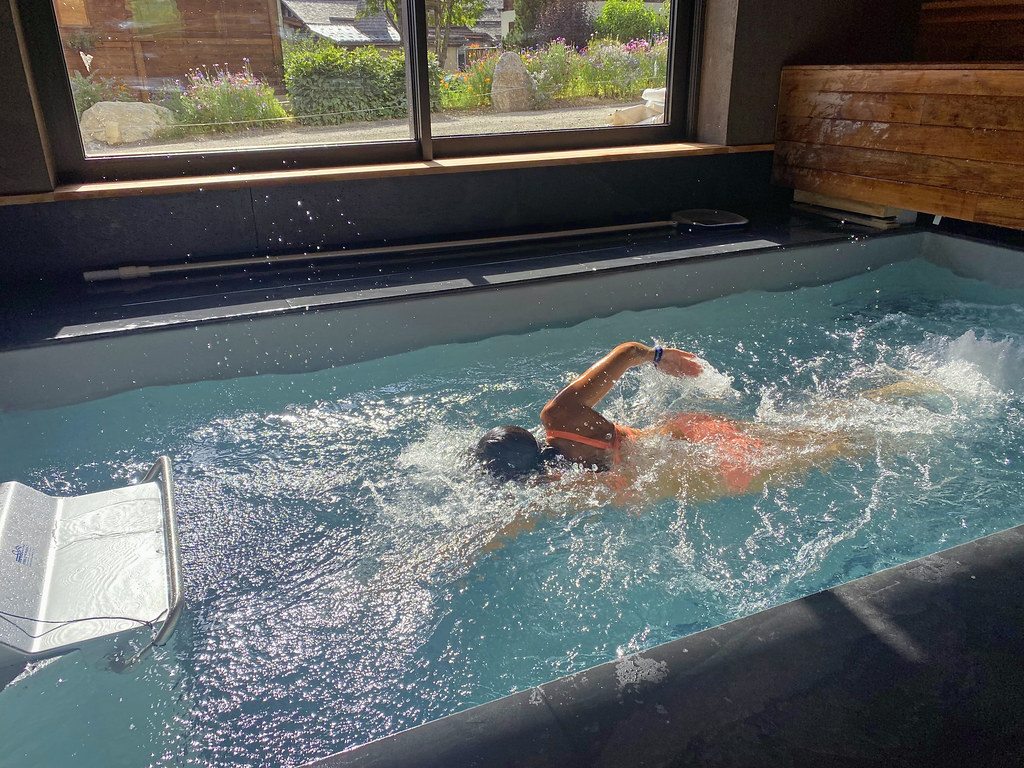 The 11 Best Swim Spa Benefits to Improve Your Lifestyle
Swim spas offer profound benefits to your health and lifestyle, maximizing your enjoyment of your spa. Whether you're looking to lean back for a deep tissue massage or want to make training more accessible, a swim spa may be the answer.
Keep reading to discover all the lifestyle benefits of a swim spa!
1. Year-Round Swimming
Perhaps one of the most notable swim spa benefits is their ability to be used all year round. These compact spas make it easy to push yourself past your limits every day of the year, regardless of the weather or temperature.
While California weather makes it easy to swim all year long, a swim spa elevates that by making it possible to have one inside your house or in an indoor area. You'll be able to swim any day of the year without worrying about storms interfering with your usual swim schedule.
2. More Accessible Workouts
When you invest in a swim spa, you'll no longer need to wait around at the gym for a lane to open up or hope the rain holds off so you can head out for your usual swim.
Your personal swimming lane will be right in your backyard, taking up a small portion of your space and capable of providing a more challenging swim than you'd find in a traditional pool.
It's not uncommon to lose motivation when you have to get up early, drive to the gym and hope there's a spot in the pool for your morning swim. When you have a swim spa in your backyard, you'll be able to hold onto your motivation much easier, knowing you can simply step out into your backyard and into your spa for your morning swim.
3. Saves You Time
Having your own swim spa in your backyard helps save you valuable time by creating the optimal workout environment right outside your back door.
No more fighting with traffic or wasting valuable time driving to and from the gym or beach. All you have to do is wake up, step outside, and turn on the jets to work up a sweat to start your day.
Even better, you'll no longer have to coordinate your workouts when the gym is open! You have 24-hour access to your swim spa, making it easy to fit in your workout when you can without having to worry about the gym being open!
4. A Customizable Experience
Swim spas have a range of strengths you can set your jets to, providing you with a unique way to adjust your swim spa to meet your needs every day of the week.
Whether you wake up wanting a leisurely swim to loosen up or are craving an intense session that challenges you more than ever, your swim spa can meet you where you want it to.
This creates a unique way to build strength as well, allowing you to create a more challenging environment than you would find in a traditional pool. This can help you become a stronger swimmer in a shorter period of time and can help you surpass your original fitness goals for the year!
5. Unique Fitness Opportunities
Swim spas are for more than swimming. Many of these units include areas where you can attach resistance bands, providing you with a heated, supportive environment to move through a full-body workout.
There are also water weights you can invest in to add some weighted workouts into your regular routine, making your swim spa capable of providing a full workout experience.
What's even more, if you enjoy running but worry about the impact on your joints, your swim spa provides the optimum solution. Simply turn on the swim stream, and jog against it, just like you would while swimming. The stream will keep your body in place while you push yourself through a challenging yet gentle run.
6. Better Cardiovascular Health
Swim spas provide an easy way to meet your cardio goals, making it easy to swim, walk, jog, and even cycle right in your backyard. Your spa provides the perfect environment to gently ease yourself into various cardio routines and introduce your body to more strenuous cardio exercises.
Over the year, this will help strengthen your cardiovascular capabilities, helping you breathe better throughout the day, increase your energy, and help your body become stronger to better support you throughout your daily life.
7. Improved Mobility
While exercise, in general, can help improve your mobility, the warmth of the water in your swim spa can vastly amplify those typical results.
Whether you're in your swim spa to enjoy a deep tissue massage from the jets or are moving through an intense exercise routine, your muscles are being eased into a more relaxed state. The heat of the water helps reduce tension in your body, allowing your joints and muscles to move more easily.
This helps you get deeper into certain exercises than you would outside the water without causing any damage. Through these moves, you'll be able to increase your flexibility in a safe way and discover better mobility outside of the spa over time.
8. Family-Friendly Fun
Swim spas provide a unique way to entertain your family all year round.
They are a great way to make entertaining your kids easy, and create the perfect environment to bond with your loved ones as you race against the waves, ride the stream with a boogie board, or play some fun water games your kids love.
If you have children who were born in the cooler months of the year, you'll be able to throw them a pool party to remember that may not have been possible without your swim spa.
9. Controlled Learning Environment
Do you have kids that are learning how to swim but worry about them trying to learn in open water or at the busy public pool? Swim spas can help remove that worry by providing a safe and controllable way for you to teach your children how to swim right in your own backyard.
Swimming is an essential need, and learning can be challenging, especially if your child is shy! Using your swim spa to help them learn how to swim and slowly build up their strength and confidence, helping them learn this skill faster and better than they would in a public pool.
10. Make The Most Of Your Backyard
If you find yourself spending very little time in your backyard, you're limiting how much of your property you use. Adding a swim spa to your yard can help you make use of unused space and get more enjoyment from your home.
This drastically improves the value of your home, not just for potential buyers but for you as well! When you enjoy every aspect of your home, you'll find much more value in it, allowing you to take pride in it.
11. Great For Any Size Yard
If you have a smaller yard and adding a pool simply isn't an option, a swim spa may be able to combat that issue. Because of their compact size, they can easily fit into smaller yards without making them seem crowded, making it possible for you to enjoy a pool without needing a lot of space.
Swim Spas for Sale in Southern California
Make meeting your 2023 goals easy by upgrading your lifestyle with a new swim spa. Whether you want a model that maximizes your cardio exercise or long for the balance between fitness and relaxation, Lifestyle Outdoor has a swim spa model for you.
We stock powerful, modern swim spas in various forms, giving you complete control over how your swim spa benefits you.
With six showrooms throughout Southern California, we're making the enjoyable benefits of swim spas easy to access. Our team of experts has the knowledge needed to help you find the spa of your dreams, ensuring you invest in one you'll enjoy for years to come.
Visit your local showroom to explore your options, or contact us, and one of our team members will be happy to assist you.