One of the most important aspects of choosing the right hot tub all comes down to one BIG thing…size!
Hot tubs come in a wide range of sizes, from compact models that provide the ultimate intimate atmosphere, to large hot tubs that boast spacious interiors fit for the whole family.
While mid-size models that seat four or five people are by far some of the most popular options, large models are on the rise, with more and more people wanting maximum shareability.
But which large hot tubs are the best?
We're covering six stunning options that can suit a range of budgets, lifestyles, and aesthetics!
Let's dive in!
The Appeal of Large Hot Tubs
Large hot tubs boast a range of benefits that smaller models simply can't achieve.
These models provide ample space to easily fit a larger group of people, but also maximize your seating options, allowing you to switch between chairs to match your needs to the various jet patterns.
This alone has made these models particularly appealing to many, especially for those who enjoy hosting lavish events, or for families who need more seating than mid-sized spas can provide.
Things To Consider Before Buying a Large Hot Tub
Buying a hot tub of any size takes some consideration, and there are a few factors that will influence which model you choose to invest in.
This is especially true for large hot tubs since they require additional space, and may not be ideal for many smaller backyards.
To ensure a large hot tub is a good fit for both you and your space, here are three questions to ask yourself.
What is Your Budget?
Hot tubs are an investment, there's no getting around it.
However, various aspects come into play when determining the price of any given model, and size is a significant factor in this.
This makes it crucial to set your budget and stick to it. If you're worried about a large upfront cost, don't be!
Just like any other large investment, financing options are available, making your dream hot tub much more affordable, breaking the cost down into easy monthly installments!
How Large Is Your Outdoor Space?
Large hot tubs require ample space, so it's important to know the amount of space you have to work with.
Whether you're planning an indoor installation or are updating your backyard with your new spa, take time to measure the space first.
When you do this, plan where you would like your hot tub to be installed, and determine how much of the space you're willing to sacrifice for your hot tub.
You want your hot tub to complement your space, not leave it feeling crowded or cause it to look cluttered, so try to pick an area where your hot tub still leaves open space for you to enjoy while outside the water.
What Kind of Seating Do You Want?
The final thing you want to consider is the design of your hot tub.
This is an important factor and will have a significant influence on your experience each time you sink into the warm water.
Hot tubs come with two distinct layouts; models that include a lounger, and hot tubs that boast an open seating plan.
While a lounger will reduce the number of people you can share your spa with, it creates a more luxurious experience where you can lean back and enjoy a shoulder-to-toe massage.
Open seating designs, however, create a more spacious, unobstructed interior, making it perfect for anyone who has kids or wants to maximize their seating options.
6 Exquisite Large Hot Tubs For Your Culver City Backyard
At Lifestyle Outdoor, we believe in options, giving our community a plethora of choices to easily find their dream hot tub at a more affordable price point.
We carry four premium hot tub brands, each one offering unique features and model designs, while boasting a range of prices.
Let's dive into some of the best large hot tubs offered by each brand.
Large Jacuzzi®️ Hot Tubs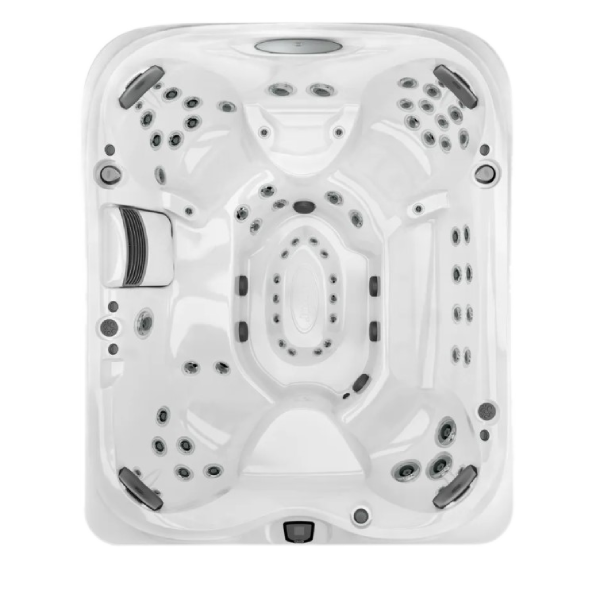 J-495™️ Hot Tub
This is easily the largest hot tub offered by the Jacuzzi®️ Brand, and with enough room for up to nine adults, it's sure to meet your every need!
With its rectangular shape, the J-495™️ model measures 91" x 110" and boasts the exclusive high-back design only found in the 400™️ Collection models.
If you're looking for ample room to entertain without sacrificing a full-body massage experience, this model is the one to choose.
With its open design and dual therapeutic seats tucked into two corners, you'll discover a state of pure bliss every time you enter the water.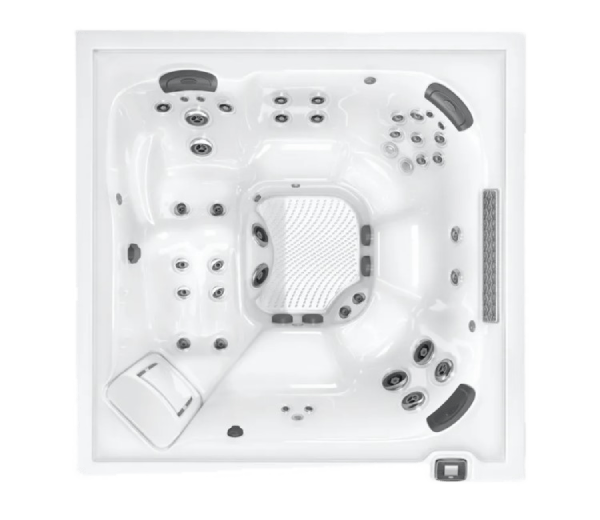 J-LXL®️ Hot Tub
If you're looking for an ultra-modern large hot tub design that's sure to make its mark on your space, the J-LXL®️ model may be your perfect match.
This square hot tub boasts a size of 91" x 91", and was designed to catch the attention of everyone who sees it.
With its stunning square cabinetry, and metallic accent exterior corner lights, this model is truly a statement piece!
Better yet, this model brings your therapeutic hydrotherapy a step further than other models, with IR + Red Light Therapy built directly into one of the seats!
Whether you're enjoying the lounger as the jets massage the weary muscles from your shoulders to your toes, or you're sharing the therapeutic benefits with five of your friends, this model provides endless ways to enjoy the water.
Hot Spring®️ Spas Largest Models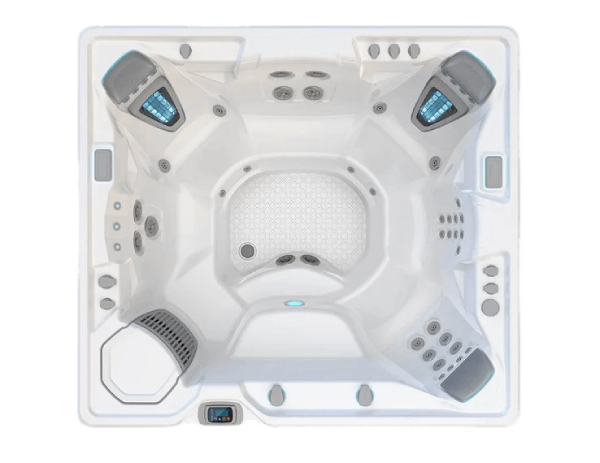 Grandee®️
If energy efficiency is top of your mind, the Grandee®️ model should be a strong contender on your list.
This hot tub not only has an impressive size of 8'4" x 7'7", but it also boasts energy-saving elements to maximize efficiency to keep running costs low, all without compromising your hydrotherapy experience!
With the patented Moto-Massage DX moving jet, you'll experience a hydromassage unlike any other.
As it sweeps two powerful streams of water down your back, four targeted jets ease aching shoulder and neck muscles, resulting in a nearly hands-on massage experience!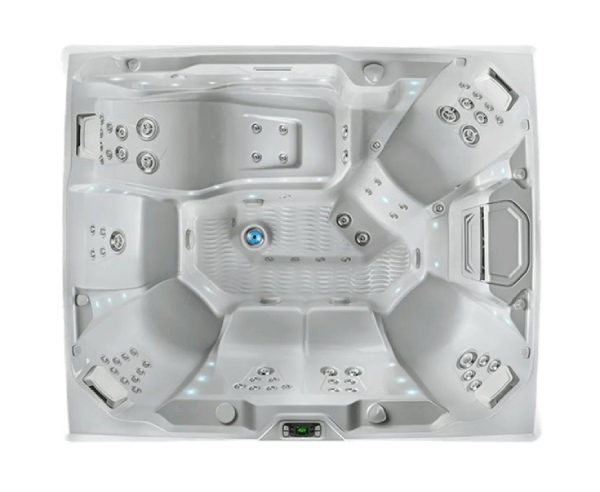 Prism™️
For something offering a variety of full-body massage options, the Prism™️ spa has you covered.
This spa includes a full lounger, along with an upright seat lined with jets that treat sore muscles from your neck to your feet.
With enough seating for seven and a size of 9'2" x 7'7", this spa can easily meet the needs of nearly any family.
Each seat boasts its own configuration of jets, providing the ultimate range of options to ensure everyone you share your spa with can enjoy the same luxury experience.
To take your experience even further, this spa offers personalized control over your jets, ensuring you can easily adjust the pressure to tailor your massage to meet your changing needs day to day!
Large Caldera Spas®️ Hot Tubs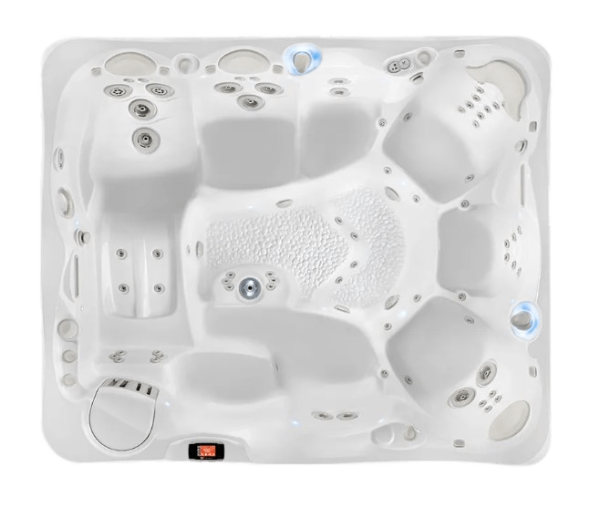 Cantabria®️
The Cantabria®️ model seats eight, with a total size of 9' x 7'7", making it suitable for those looking to amp up their backyard entertainment, or large families hoping to embrace more quality time.
This spa includes a lounger tucked along one side to expertly massage your neck, shoulder, calves, and feet, while the seven other seats each offer a unique experience of their own.
Whether you struggle with carpal tunnel syndrome, or face achy hips after a long day on your feet, this spa has a collection of jets to meet your every need.
This hot tub does far more than just offer a luxury hydromassage. It also supports a more effortless maintenance routine with the FreshWater Salt System!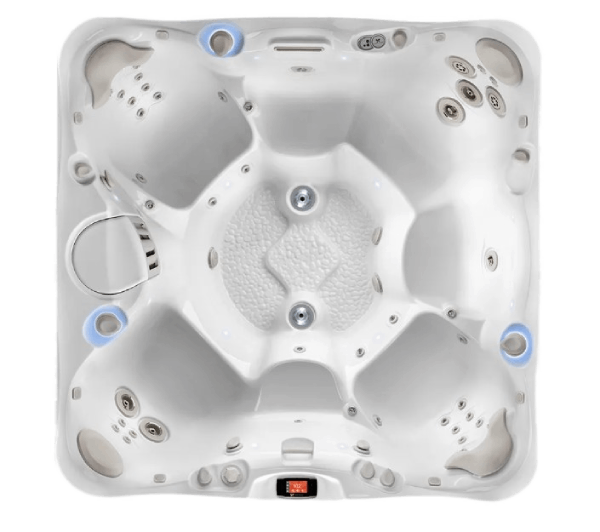 Niagara®️
Last on our list is a seven-person hot tub with a spacious open seating design, perfect for families who want space for their kids to splash around all year long.
The Niagara®️ hot tub is a square model offering 7'5" x 7'5" of pure relaxation bliss.
With speaker grill surface mounts to surround you with your favorite music, and the LED Points-of-Light system to bring a pop of color to your water, this spa is sure to stun.
What may be most impressive about this model, and many others offered by Caldera Spas®️, is the optional CoolZone™️ system.
Unlike many other hot tubs that purely focus on providing a toasty warm environment, this system ensures you can both heat and cool your water, effortlessly adjusting it to meet your needs, no matter the season.
Large Hot Tubs for Sale in Culver City, and Southern California
Whether you're looking for the best large hot tubs on the market to meet your family's needs, or simply want to enjoy the luxury of a model built with shareability in mind, the experts at Lifestyle Outdoor can help!
Our showrooms across Southern California are stocked with options to meet a variety of needs and budgets.
Visit your nearest showroom, or contact us today to learn more about our process! Your new hot tub is just around the corner!